I Speak
Surreal Photos and Interviews
with Guitars from the Last 200 Years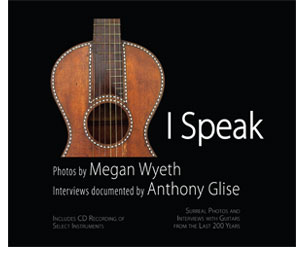 Anthony's new book with
noted US photographer, Megan Wyeth:
"I Speak"

Includes CD recording of selected rare guitars from the book.

Join us on Facebook at:
"I Speak (Megan Wyeth & Anthony Glise)"

For ordering information, please contact Anthony at aeviagroup@gmail.com

"I Speak" is
• hardbound,
• 88 pages,
• 53 color and b/w portraits by Megan Wyeth,
• "interviews" with the guitars written by Anthony Glise,
• and an audio CD with over an hour of music performed by Glise on select guitars from the book. (Click here for a list of all the pieces on the CD.)

The first 500 copies are hand-signed and numbered by Wyeth & Glise.
"I Speak" also comes with a complimentary signed & numbered COE ("Certificate of Authenticity") and Provenance for collectors.

Click here for full bios of Wyeth and Glise.

ADDITIONAL ITEMS AVAILABLE ONLY BY MAIL:
Send check or money order to:
Aevia Group, Ltd.
PO Box 7242
St. Joseph, MO 64507
USA
ADDITIONAL "I SPEAK" ITEMS
PRICES INCLUDE SHIPPING & HANDLING
1) CD "I Speak" (identical to the CD in the book but in a CD case with additional program notes about the music).
PRICE: $18.00 in the US,
$25 outside the US.
2) GALLERY POSTERS
(11" x 17" - suitable for framing - shipped rolled in a heavy cardboard tube). You can see the poster on our Facebook website under "PHOTOS."
PRICE $16 in the US,
$23 outside the US.
3) GALLERY PRINTS
These unframed limited edition, hand-signed prints come in various sizes, printed on high-grade gallery paper, and are identical to the gallery prints being shown throughout the US and Europe for the "I Speak" gallery tour.
Beginning at $1200. (US).
For more information, please contact Megan directly at:
Mmeg3@aol.com